Tunnelware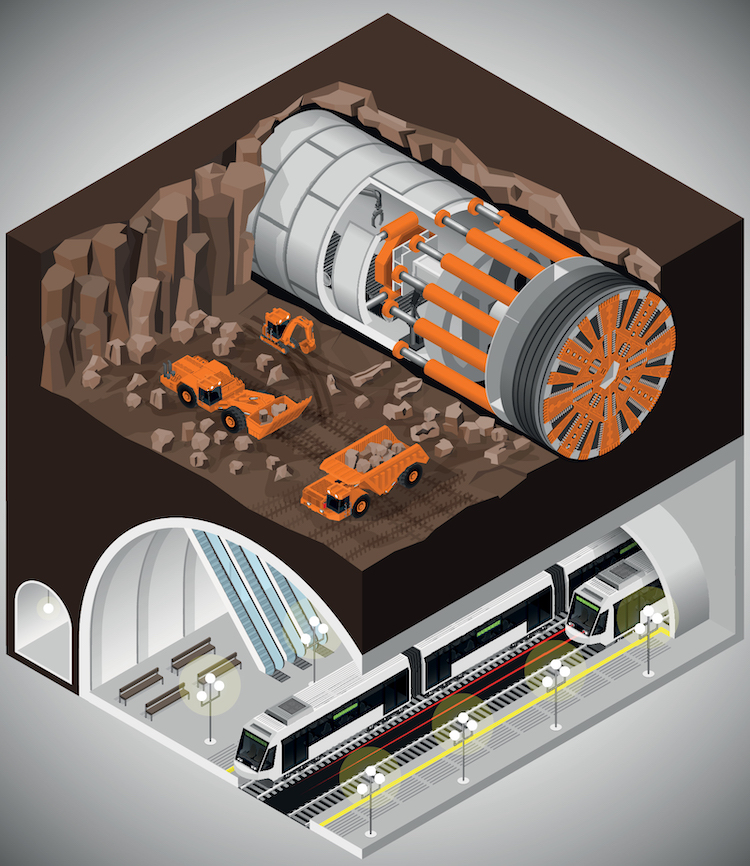 Revolutionising the tunnel industry
Tunnelware aims to accelerate construction by improving information flow. Tunnelware is a digital twin of a tunnel construction system across its lifecycle, using real-time data to enable understanding, learning and reasoning. In terms of automated production and level of digitalization, the tunnel construction industry is still significantly behind other industries. Nevertheless, the megatrends like Big Data or the Internet of Things offer great opportunities for the future development of the tunnel construction sector. Prerequisite for the successful Tunnel Construction 4.0 is the creation of a digital twin of a tunnel construction site. CIM (Construction/Civil Information Modeling) enables architects and planners to come together and work on a set of 3D models. This in return, creates an interactive project which promotes real-time collaboration. When the architects and engineers are collaborating, planning and sharing the information of the project, they are effectively employing CIM. Through the use of CIM, projects of any scale are able to be constructed, this could be something as small as an tunnel cross passage to a full-fledged urban Metro tunnel.
Basic
Intelligent Tunneling

Tunnelware is a software based on game engine for managing and controlling technically the tunnel construction process specifically done with tunnel boring machine. Our smart cloud-based management system let you visualise and analyse the process and data on 5D format. All data generated will be stopped in here with full security designed by our experienced development team. The system will improve the construction process at every stage, delivering "faster builds to a higher quality with fewer defects and more sustainable tunnels.

BIMLedger

BIMLedger would streamline project delivery and payment. In a BIM process, the model can be seen as the contract between the owner, the GC and the subcontractor. The physical construction needs to match the model if any deviations then need to be fixed. During any clashes or errors change order will be raised. To remove the contractual paperwork and the expensive and time-consuming process blockchain will be used in real-time with our solution BIMLedger.

Cloud Solution

Tunnelware cloud solution will acquire all data generated by machine and monitoring in real-time. This cloud solution can be hosted by Smart Bauware or at your premises on your server. The security of data is always on highest priority for us to design the system.

Data Analytics & Visualisation

By our years of experience in tunnel construction and 3D game design, Tunnelware can provide you the best ever analyses of data in 3D view and all this in real-time. Historical data analysis can also be possible within a fraction of seconds for the whole tunnel length. This analysis can be used for future tunnel projects by the Tender department of yours. All these visualisation will be on GIS platform for multiple machines located in different geography.

Reports

Tunnelware let you generate custom report for construction process based on daily, weekly, monthly and on full project time scale. Shift reports can also be possible with the complete ease of filling up the report without even being logged in to the computer. Personnel management report will also be possible on monthly basis for managing human resource. All the reports will be having full support of business intelligence tool to generate right report to present to the client and internal team meetings.

Sensor Data Management

Tunnelware let you manage the sensors with our beautiful designed UI. Management of sensors means it let you deploy any sensor data on the fly and can let you add to any report or analysis template. Sensor calibration can also be possible on the fly. Notification on any error will be shoot to registered email or mobile phone.

Meeting Room

Virtual meeting room where people from different location and department can join at real-time to discuss on going tunnel construction process, shift reports generated by Tunnel Engineers and share their experience to make the process of construction complete smooth and hassle free. The decision taken will be uploaded on server immediately for any further action to be taken by the ground force.

Cutter Tool Management

Disc cutters of cutting wheel can be monitored virtually by the sensor data and documented while replacing for inventory control.
Advance
Intelligent Connection

System will collect the data from sensors on and below the ground, then by analysing it intelligently it will provide complete new 3D visualisation as what can be possible within few meters ahead of the machine. This will reduce the risk of any accident to the urban area above or below to the existing tunnels.

Segment Management

Tunnel segments in the segment stock yard will be managed via drone. All data will be transferred to the system on real-time and can be accessed virtually.
OUR ADVISORS
These are the people with expertise specially in the tunnel industry
who are guiding us to make this Tunnelware perfect fit for the industry.
EVENTS
Conferences & Exhbitions where we were and will be in future
showcasing our product.
CONTACT US
Address
DigitalTwin Technology GmbH
Schaafenstraße 25
50676 Cologne
Germany